I'm coming to y'all this weekend with a BLOG HOP! Hosted by my good friend, the lovely Christina! Let's find some new blogs to follow and people to connect with this weekend! Please don't forget to follow the rules listed below!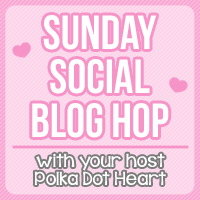 ~ Follow the host and co-hosts (RSS, Bloglovin, GFC, etc). Leave a comment as well! Please also follow the host and co-hosts other social media sites (Instagram, Twitter, Pinterest, etc).
~ Grab the button and place it on your sidebar or link love page.
~ Stop by the blogs in the blog hop! The blog hop will not be successful if no one visits the other blogs! Say hi to fellow bloggers.
~ Share the blog hop via Pinterest & Twitter!


Christina @ Polka Dot Heart

Co-Hosts for the week!
Brandi @ Cupcakes and Curves
Nic @
Chevrons and Anchors